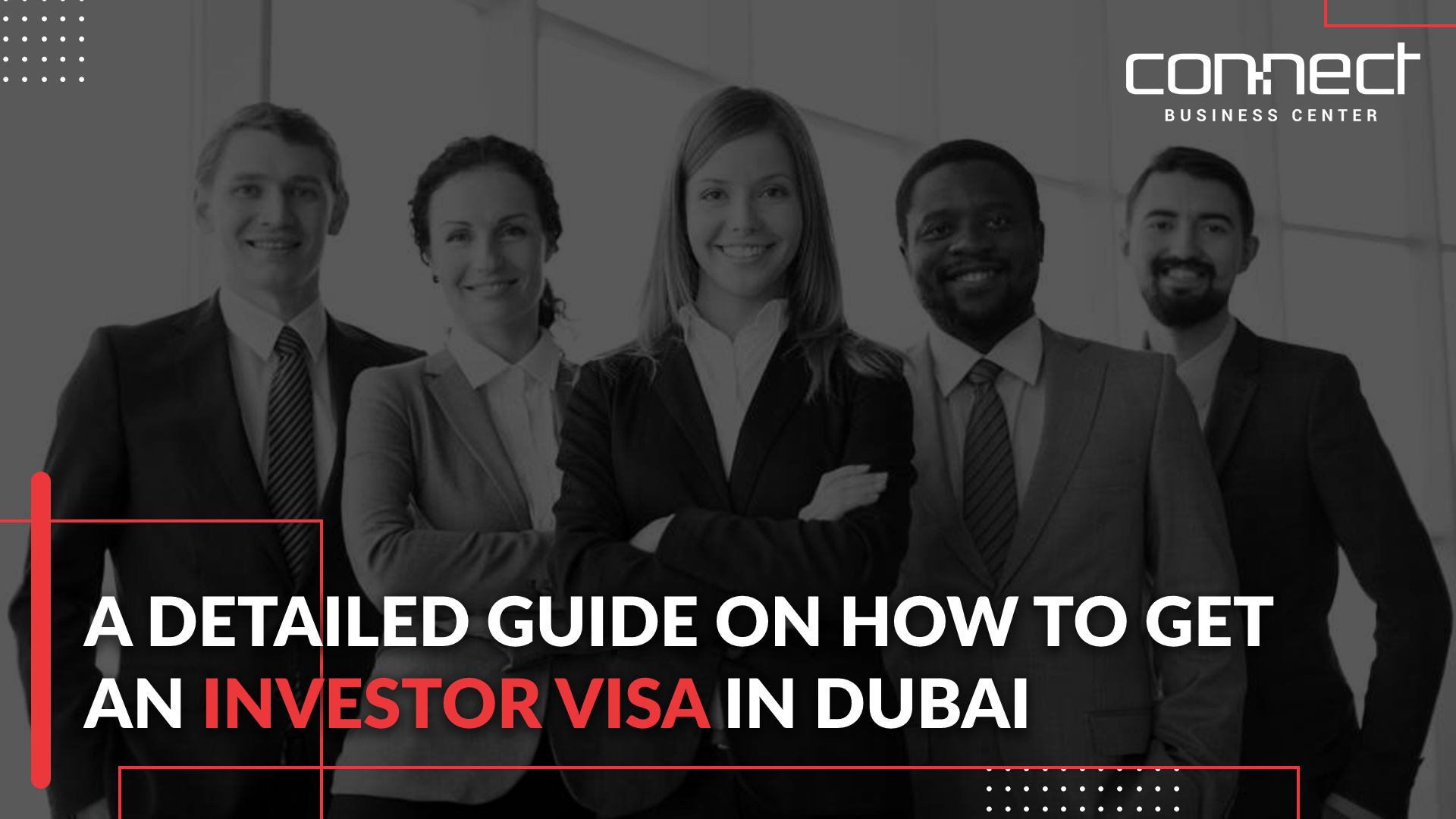 Smart decisions represent the difference between successful businesses and lost investments in the current economy. In this sense, the key factor is not only your business target but taking into consideration one more: location. For this reason, an Investor Visa in Dubai, a present economic hot spot, is an excellent option.
In this article, we will exhibit a detailed guide about the Investor Visa Dubai. Here you can learn about the types of Investor Visas available, which are the requirements to apply for one, and its advantages. To accomplish this, we will talk about the following topics:
What is an Investor Visa?
Why you should get an Investor Visa in Dubai?
Which types of Investor Visas are available in Dubai?
Who can apply for an Investor Visa Dubai?
How do you apply for an Investor Visa?
Why is an Investor Visa in Dubai the best option for you?
Where can you obtain more information about the Investor Visa Dubai?

For foreign citizens interested in working or living in the country, the UAE Government offers a variety of Visas. However, if you are an investor searching for a place to do business, an Investor Visa will suit you.
This Visa allows you the opportunity to live and work in the UAE with 100% ownership of your business. All of this without you needing a national sponsor, neither the requirement of paying any taxes.
You can apply for an Investor Visa in Dubai, Abu Dhabi as an individual or as a business partner, and you will only need to fulfill a series of legal and financial requirements. As it will be explained later in this guide, your type of investment is not a limitation to applying.
The current policy for the Investor Visa was established in 2019, with the main purpose to allow temporary residence to any person who can make a substantial contribution to the economy of the country, by starting their own businesses or investing in already existing ones.
It is a common misconception to think that Dubai's economy is growing because primarily of oil, but this cannot be further from reality. Dubai's oil reserves were used to build the infrastructure required for trading, manufacturing, and tourism. But, in the year 2019, only 5% of Dubai's GDP was oil-based.
The other 95% of their GDP is currently widely diversified, which makes Dubai a place with an important variety of types of economical markets, including the advantages of being the main popular destination for tourism in the Middle East, and a major international tech hub for IT and Finance companies.
Another key factor for Dubai to be an economic hot spot in the region is its main trading partners: China, Russia, India, the US, and the EU. This represents a warranty for investment because it enables the possibility of building worldwide businesses, by having Dubai as their headquarters.
To frame this beautiful picture, it is important to mention that the current economic projections reflect that Dubai's economy is going to continue its fast growth, mainly because of its diversification, and to government strategic and resourceful decisions that had allowed the UAE to be a commercial hub in the region.
3. Which types of Investor Visas are available in Dubai?
A diversified economy like Dubai enables the occurrence of different kinds of investments. Dubai offers several categories of Investor Visas to address the requirements of all of these kinds of investments. If you are a foreign citizen in the UAE, you can apply under the following categories:
3.1 Investment in residential property
If you want to invest in residential property in Dubai, this is the category of visa you are looking for. As a requirement, the property considered for the investment has to have a net worth of AED 1 million or more.
The properties eligible for this category are the ones with a maximum of 50% of their value under a mortgage. Properties jointly owned are also eligible, but only if each share is worth at least AED 1 million.
The basic format of this category of Investor Visa Sharjah, Dubai is valid for three years; however, it is possible to apply for a five-year or a ten-year visa if the ownership of the property is worth at least AED 5 million or AED 10 million.
In essence, this category will allow you to use Dubai as a safe, secure, and prosperous environment for your investment. On the other hand, if you want to rent an office space for your company, you will need to learn about Ejari Services in Dubai.
3.2 Investment in a company
This is your category of Investor Visa Dubai if you are an entrepreneur who wants to invest in already established businesses or to start a company of your own. If you want to apply, you must own shares worth at least AED 72,000 in existing companies, or new businesses.
Like the previous category, the Investor Visa Dubai is also valid for only three years, and unlike the residential property category, it is not limited to specific types of investments. Doctors, specialists, inventors, scientists, talents, intellectuals, artists, and investors, can all apply through this category.
You do not need to have local sponsors or partners to submit your application. Therefore, you as a foreign citizen in the UAE with full ownership can be an applicant for this Investor Visa. In this matter, you can also search for helpful information about obtaining a license for your business in Dubai.
3.3 Long term residence
The long-term visa is a visa scheme that can be described as a special form of the "Investment in a company" category, in which a different eligibility criterion is applied, taking into consideration the investment size of the applicant. The two kinds of Long-term residence Investor Visas are the following:
A ten-year long-term residence visa, available to investors with share ownership in existing companies, or with established companies worth at least AED 10 million. If the investor has investments in several companies, with a total investment of at least AED 10 million, is also eligible for this category.
A five-year long-term residence visa, available to investors with share ownership in existing companies, or with established companies worth at least AED 5 million.
This category has its official name of Long-term residence, however, it is widely known in the different industries with its other name: the Golden Visa. One main advantage this category has and cannot be found in the other categories is that it will automatically be renewed.
If you want to get a Golden Visa, you will need to make your investments successful to increase their worth. In this order of ideas, knowing the procedure of mergers and acquisitions in Dubai can come in handy.
3.4 Retirement
In the UAE, the retirement age is 55 years. The Government allows foreign citizens above this age to apply for this Visa, and continue to live in the country for another five years. However, there are financial requirements that have to be fulfilled by the applicant:
Active monthly income of AED 20,000 or more.
Cash savings or accumulated savings of at least AED 1 million.
Have investment in a property worth at least AED 2 million with no mortgage.
Due to the diversity of Dubai's economy, there are no major requirements regarding who can apply for an Investor Visa Dubai. The only demand for you as an applicant is to be at least 18 years old.
Like it was previously mentioned, there is no limitation regarding the economic branch of the applicant's investment. However, it is up to the local government to consider if your investment is contributing to the country's economy, and therefore, approve your Visa.
In terms of the applicant's nationality, the UAE Government agencies have the right of rejecting your Investor Visa application if your country of origin is banned invoking national security or health safety concerns.
Every application is different; hence, you as an applicant must fulfill the requirements of your desired type of Investor Visa to become eligible. We recommend that you also learn about the basic aspects of forming alliances to your business, to reinforce your application.
5. How do you apply for an Investor Visa?
There are two different methods you can use to perform an application for an Investor Visa in Dubai:
Attending in-person to one of the Amer centers distributed in Dubai and all across the UAE mainland.
Perform an online application through the eDNRD web portal (the E-government Directorate of Naturalization and Residency Department).
For both methods, the required documents by the UAE Government authorities are the same. These mandatory documents are the following:
Copy of passport.
Photograph with white background.
Memorandum of Association (MOA) with the worth of the shares or the capital investment (AED 72,000 or higher).
Business Trade license copy.
Identification of other partners (if needed).
Cancellation document of existing visa (only for the case of having an existing employment or residence visa).
Immigration Establishment Card copy.
Bank Statement of the last 6 months.
On the other hand, it is necessary to state that this cannot be considered as a full list of documents. Indeed, the requirements tend to vary for each specific case. If you are currently living outside the UAE, you must first do the next steps before submitting your application:
Apply for an Entry Visa to enter the country.
Once in Dubai, perform a completed medical screening test.
Start an in-country visa status change procedure.
The whole process can involve a time between 15 and 20 working days. If you want additional information about this process, you can take a look at our investor visa services and what they offer.
There are two different answers to this question, one from a financial perspective, and the other from a personal perspective.
Financially, it allows your business or investment to grow inside the highly prosperous and tax-free Dubai economy. Besides, by establishing your company in Dubai, key processes like marketing and building business alliances will be much easier to perform.
All of these aspects help assuring the reaching of the main objective of every business: to be profitable. In essence, in Dubai, your investment has a high probability, if not a total one, of being extremely successful.
From a personal point of view, an Investor Visa Dubai, Abu Dhabi includes four highly attractive main privileges:
House tenancy contract.
Attested marriage certificate (for spouse sponsoring).
Attested birth certificate(s) (for child/children sponsoring).
AED 1,500 refundable deposit for each sponsored family member.
7. Where can you obtain more information about the Investor Visa in Dubai?
All successful investors have something in common: They are people who are always searching for ways to boost their businesses.
With a quick online search, you can find information about how to start a business in Dubai as a foreigner. However, in Connect Business Center we can assist every investor or entrepreneur that wants to start immersing in the advantages of Dubai's fast-growing and prosperous economy.


Do you have any questions regarding the Investor Visa Dubai or any other visas? Feel free to contact us to obtain more information. You can email us at info@connectbusinesscenter.com, and you will talk to one of our representatives who will answer your questions.
Apply to work in a great stress-free environment today by sending us your CV through thetalentpoint.com. Furthermore, we will not store CVs that you send to contact@thetalentpoint.com. Make the move, start a new experience, and improve your professional life!