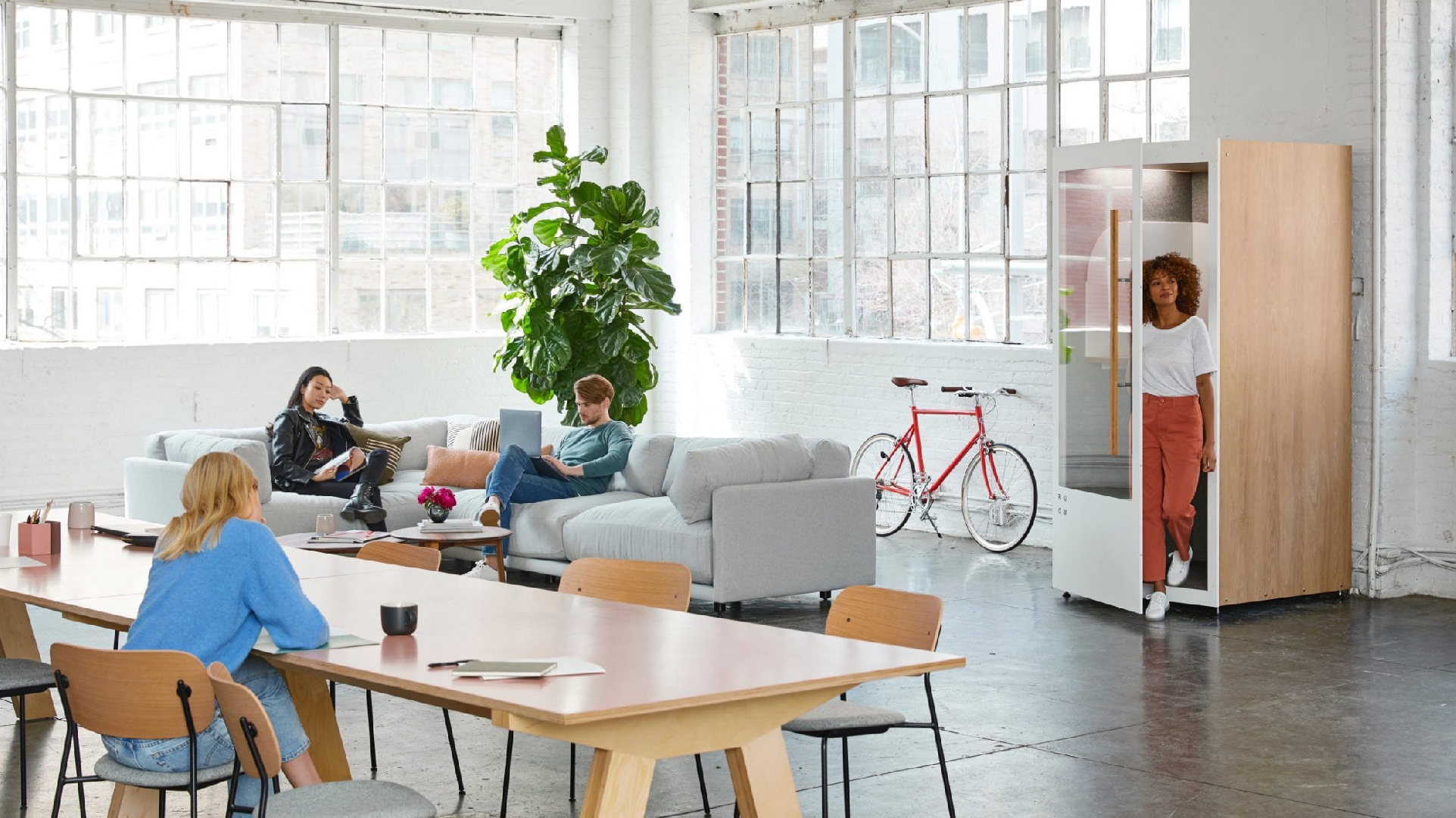 Shared workplaces allow collaboration to create a productive environment that favors each occupant. They help entrepreneurs and freelancers share their problems and help each other to achieve their goals. The flexibility these spaces offer contrasts with more traditional office environments that are limited by corporate rules.
In this article, you will learn everything about shared workplaces. These are places where a group of entrepreneurs work on their businesses and projects as usual. This way, we will help you with this interesting way of working, the comforts it offers you and its benefits so that you obtain more knowledge.
What are shared workplaces?
Advantages of shared workplaces
Types of shared workplaces
Why choose to work in shared workplaces?
Who can benefit from shared workplaces?
Four of the best shared workplaces in Dubai
How can Connect Business Center help you find a shared workplace in Dubai?

1.What are shared workplaces?
It consists of sharing offices with other professionals or companies from different areas and projects that also need a space for their work activities. These are places where you can work without interruptions, surrounded by other workers with the same needs and who seek the same result: increase productivity and work better.
Shared workplaces are becoming more popular and it is no wonder that the list of benefits could go on forever. We know that more practical solutions are sought to achieve better work results. This is an interesting solution for entrepreneurs and freelancers that enhance the connection between professionals.
2. Advantages of shared workplaces
2.1 Labor flexibility:
Regardless of arrival and departure times, a great weight will be lifted from our shoulders. Compared to traditional offices, in the shared workplace there is no time limitation: you can come and go without problems. This way, you can organize your work activities and be responsible.
It is your decision if you prefer to work during the day, at night, half the day or about eight hours. Therefore, no one imposes on you how to organize your work schedule.
2.2 Help in the development of networks and the community:
Networking in a shared workplace is an opportunity for collaboration, business growth, and career growth. As you meet new people and build valuable relationships, it can be very effective in promoting your project or business.
As a member of the company, you will be aware of all the seminars and networking events. Make it a point to attend as many events as you can, as these are perfect places to create new relationships.
2.3 Inspiration, creativity, and innovation:
In a shared workplace, one of the advantages of shared office space in Dubai is that you will share new and interesting ideas with people. In this way, you can see what your colleagues are doing and how they are working, to generate new ideas and perspectives that guide your projects.
2.4 Commercial development:
This feature allows you to provide category to your business. Therefore, if you want to work without employees, it might be difficult for you and the experts to help guide you.
2.5 Other advantages
2.5.1 Boost your creativity:
In these spaces, you can work with the best technology, without interruptions, and in the best work environment, which is why they offer you quality work, flexible hours, and comfort.
2.5.2 Cost savings:
One of the biggest challenges entrepreneurs and freelancers face is finding the ideal place to start a business. Therefore, it is preferable to work from a shared workplace than to set up your own office.
If your company requires adding new members, you can rent a new office, and this would not affect your budget.
2.5.3 No distractions and interruptions:
It is easy to lose focus while working from home or in a public place. These types of distractions may interrupt your activities, making you lose concentration. For the same reason, people who work from home, do their work at the last minute.
3. Types of shared workplaces
Shared workplaces have become more specialized to better meet user expectations.
We can find various types of shared workplaces, such as:
3.1 Traditional:
It is the generic work model, the first that began to be associated with the exercise of working in a shared workplace.
3.2 By sectors:
These are shared workplaces where professionals have their business model or sector in common. They are in a specific sector: designers and architects.
3.3 Eco-working:
It is a type of shared office space in Dubai for people specialized in the environment. Likewise, teams of professionals are grouped to carry out projects on nature.
3.4 Flexible:
Many freelancers professionals only need to have a space for hours, days, or months. Although it is true that the concept already implies the fact of not being tied to a job, a flexible shared workplace is much more nomadic than the rest.
3.5 Coliving:
It is where tenants have their personal rental housing, and at the same time, they can enjoy common spaces with other people and professionals where they can continue exchanging experiences and hobbies.
4. Why choose to work in shared workplaces?
4.1 Offers you comfort:
They allow those professionals or teams, who cannot afford a private office, to break out of the isolation of working from home or a noisy coffee shop. In addition, it exempts them from all the charges and responsibilities of maintenance-leasing of a traditional office in case they find themselves in one.
4.2 Allows you to socialize:
They keep professionals and companies up to date on what is happening in different industries, thanks to the various activities that encourage the exchange of information among members. This socialization also provides opportunities for the generation of contacts, clients, partners, and common projects.
4.3 Help in contracts:
They offer flexibility in contracts, being able to adjust your monthly cost by renting only what you need at any given time. If you have an entrepreneurial project, this flexibility is beneficial, since you can increase or reduce the number of jobs depending on the growth of the project.
5. Who can benefit from shared workplaces?
Many entrepreneurs, freelancers, small business owners, and insurance agents may find it very useful. Although renting a shared workplace is not for everyone. The people who are most likely to make use of these spaces are:
5.1 Independent workers and digital nomads:
Working on the couch or at the kitchen table, in a crowded hotel room or coffee shop, can be lonely, boring, annoying, and difficult. This is why many freelancers and nomads use shared workplaces as their offices. There, they can work, communicate, socialize, exchange ideas with others, and enjoy the benefits of an office environment without having to build and maintain an office environment.
5.2 Entrepreneurs:
All entrepreneurs can benefit from the space business by working together. First, you can save your hard-earned capital for larger expenses. Also, renting expensive stand-alone offices or locking yourself into a long-term lease is a huge loss to your credit. By doing business from a shared workplace, you only pay a fraction of the cost of running your own office.
5.3 Lifestyle entrepreneurs:
A lifestyle entrepreneur is a person who starts a business with the goal of changing her lifestyle. The choice is not just about making more money or creating an innovative product. Many lifestyle entrepreneurs make less money in their first few years than a regular business.
The more life rewards-focused lifestyle entrepreneur is for those who have a true passion for what they do and love what they do. All they need is a computer and an internet connection for everything to work.
Also, shared workplaces allow businesses to operate with much lower installation and maintenance costs. You can research things to have in mind to find a good shared office space for rent in Dubai, as by sharing infrastructure, they share operational loads. In this way, you can orient yourself and carry out any process safely and comfortably.
6. Four of the best shared workplaces in Dubai
6.1 Nasab by KOA:
It's a luxurious, members-only site with a workplace and social club for Dubai's most exciting revolutionaries and thought leaders.
Allows registered companies to rent a workplace for any day.
They regularly organize events, seminars, and discussions to help members interact with other people.
Allows the use of swimming pools and tennis courts.
6.2 A4 Space:
There are many offices upstairs and some reading corners where you can enjoy a good atmosphere and an interesting book.
The use of this shared workplace is completely free. You can go to the cafeteria, order something to eat, and enjoy the different facilities.
Great Wi-Fi, movie theater, and libraries.
6.3 Nook:
They provide licenses and commercial spaces in a collaborative work environment.
Shared offices from AED 60 per day, AED 250 per week, and AED 1,000 per month.
You can rent offices, hold events, and have swimming pools.
Training areas have showers and changing rooms.
6.4 Witwork:
Restaurants and pubs are popular at night or on weekends. You can use them without any problem.
Shared offices for AED 20 days, AED 100 per week, and AED 250 per month.
You can drink tea and coffee since they are benefits that they offer you. Likewise, they provide you with discounted rates in the meeting rooms.
6.5 Other shared workplaces
6.5.1 Letswork:
Shared offices from AED 39 per day; AED 209 per seven days, and monthly from AED 299.
You have unlimited access to tea and Wi-Fi.
You do not pay for parking, they offer you discounts on food, and you have free access to meeting rooms.
6.5.2 Our space:
This place provides all the comforts and necessities to do serious work.
It is a shared workplace with a natural environment.
Shared office packages from AED 1,700 per month.
Office space packages start from AED 8,000 per month.
Guest cards and virtual voice service are available.
Offers free yoga, Wi-Fi, and on-site massage therapists.
7. How can Connect Business Center help you find a shared workplace in Dubai?
In general terms, shared workplaces seek to generate a community among members where collaboration, creativity, and growth reign for all. Now that you know that shared workplaces drive business, this is the perfect job option for you.
Some many entrepreneurs and freelancers are betting on this model that brings endless benefits, both personal and professional. We have showed you some of the main aspects that can benefit you in a shared workplace. However, each person is different and it is best to check it out for you.
You can find your desired place in the UAE with the professional services of Connect Business Center. Remember that there are thousands of shared workplaces around the world and searching can be a bit difficult. You can use our platform and find the ideal one for you most easily.
We offer you the services you need, whether you are interested in other types of facilities to carry out your business activities. Also, we offer you services like Executive Office, Meeting Rooms, and Private Office.
Would you like to Contact Business Center to obtain more information about shared workplaces that help entrepreneurs and freelancers? If you want more information, call us on +97143316688 or you can send us an email at info@connectbusinesscenter.com and one of our representatives will provide you with all the information you need.
If you want to be part of our team, please enter thetalentpoint.com. CVs and resumes sent to contact@thetalentpoint will not be stored. Do it now!