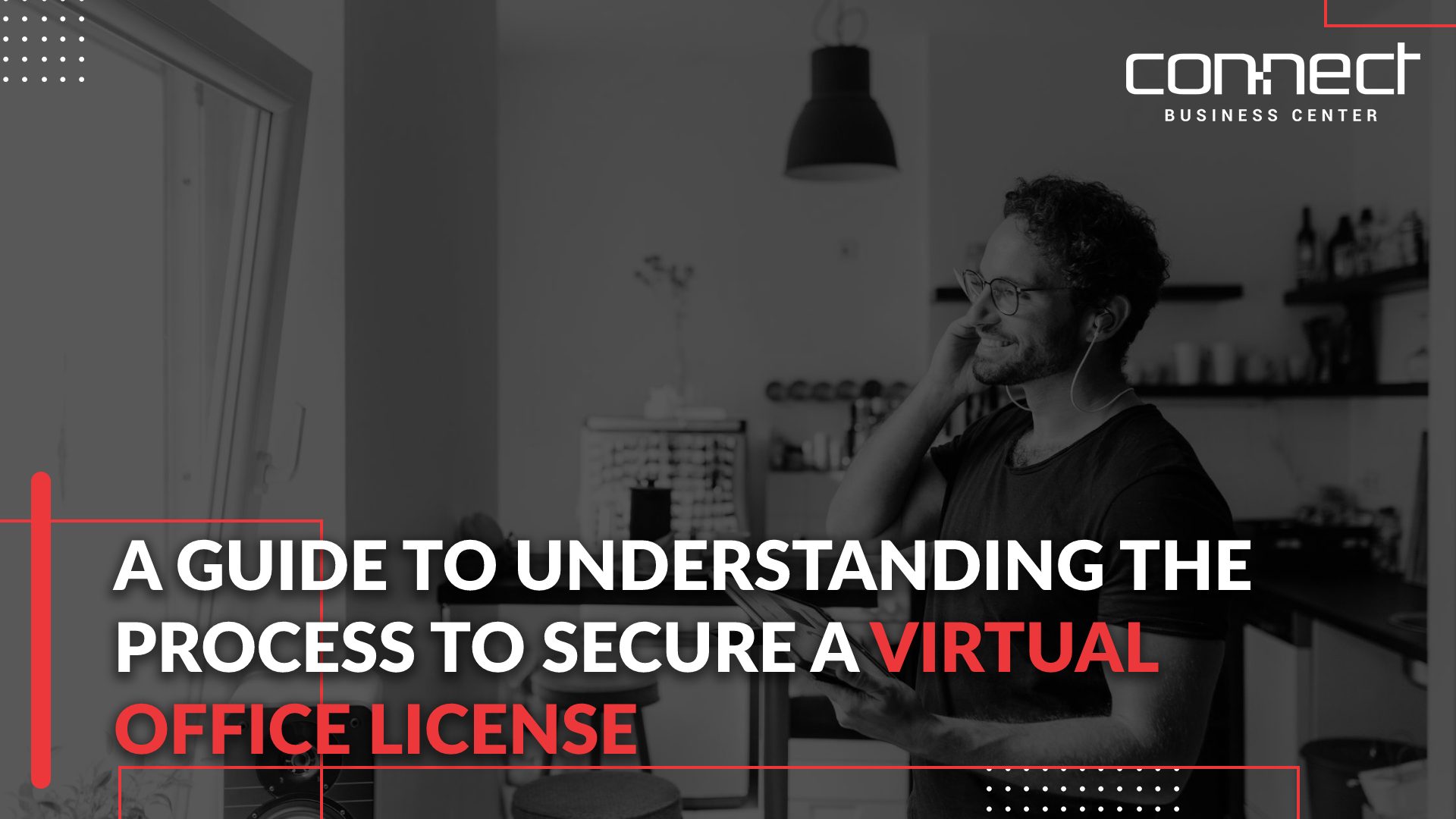 Dubai is one of the most commercially attractive countries for entrepreneurs. It offers an infinity of attractive opportunities. One of these is that a foreign investor can open their business from outside the UAE; making use of the virtual office license to open their company in Dubai from their home country.
In this article, we will explain in detail what a virtual office license is. In addition to explaining how is the process to acquire this license and what are the requirements to do so. We will also talk about the advantages and additional information that an applicant should know. We will discuss:
What is a virtual office license?
Who can apply for a virtual office license?
What documents does the applicant require?
How is the process to obtain it?
What are the advantages of this authorization?
Things you should know about the virtual office license
Connect Business Center offers you the best virtual offices in the market
1. What is a virtual office license?
With the arrival of COVID-19 in the world, all businessmen had to resort to other measures; this was due to confinement. This is so that both employees and business owners are not exposed to the virus, but; securely continue with production. The most common and feasible solution that was applied is to use the internet and be able to continue with their work activities.
In Dubai, a new concept was introduced. A way to allow any foreigner to start their business from outside this country. Being able to take advantage of the benefits that opening a company brings to this nation. Therefore, the government presents this new and attractive idea, the virtual office licenses.
The virtual office license is an authorization given to foreign entrepreneurs; so that they can carry out their work activities in Dubai, without residing in the city. Also known as a virtual commercial license. It is important to note that this license applies to a total of 101 countries around the world.
2. Who can apply for a virtual office license?
Every license has limitations on who can apply for it. Admittedly, this is no exception. In this part, we are going to talk about the people who can apply for a virtual office license:
2.1 Residence place
Applicants who want this license cannot be residents of the UAE. The business owner who wishes to create his virtual company in Dubai must have nationality or; on the contrary, residents in one of the 101 countries approved by the government of the UAE. Among them are India, Pakistan, Canada, China, Brazil, and others.
2.2 Commercial activities
Not all businesses can apply for this license. Only companies that have commercial activities in certain sectors can apply. Particularly, advertising activities, printing, and everything related to computing and consulting. In addition, jewelry, activities related to fashion, and others.
3. What documents does the applicant require?
When the process to acquire a license begins, the delivery of documents must be made. Since this is a license for a virtual office, the requirements must be scanned and attached to the page. The necessary documents are:
A photocopy of the valid passport that has three or more months of date close to expiration.
Proof of where the applicant lives must be provided. Utility bills (water, electricity) or a residency letter are received. Importantly, it cannot be more than 3 months old.
If you do not come from the approved countries, a copy of your tax residence must be provided.
Finally, an updated photo with a white background cannot be more than three months old.
4. How is the process to obtain it?
An entrepreneur who wishes to establish his virtual business in Dubai must apply for this license. If desired, some advisors can help you online with the process. Next, we will give a guide of what are the steps to follow, in order to obtain one:
4.1 Register the company
To start this process, you must enter the official website of Dubai Virtual Commercial City. First, you must fill out the form for registering companies online. Some personal information of the business owner is requested, such as names, surnames, date of birth, passport information, and others. In addition, company data must be placed; for example, the name of the company, and the commercial activity that it is going to carry out.
4.2 Send the documents
After having filled out the form in its entirety, you must proceed to send the documents. These must be scanned and attached to the official website of Dubai Virtual Commercial City. The business owner is allowed to use electronic signatures.
4.3 Keep an eye on the status of the application
The next step to follow is the authentication of the information provided. Once the application is received, the Dubai government goes through a verification process; This process takes about a month. Finally, the applicant will receive an email if their application was approved or, on the contrary, rejected.
4.4 Verification at VFS Global
If the applicant receives an email with the approval, they must go through another verification process. In this case, you should contact VFS Global in order to verify all passport information. For this, you must first request an appointment in advance on their website or by email. Please note that you will have to pay a small charge of AED 300 along with other taxes; which can vary depending on the country where you request it.
4.5 Pay the cost of the license
After going through the verification step at VFS Global; You must go through the step of paying the cost of the license. When the cost is indicated, you must proceed to pay it through ePay. The price will vary depending on the license selected when filling out the form when registering; In total, if you have a sole proprietorship, you must pay AED 850; that is, AED 650 for the use of the license for one year and AED 200 for the company patent.
5. What are the advantages of this authorization?
Having this authorization allows you to work from any of the 101 countries that have the authorization of the UAE. Thanks to COVID-19, virtual offices have become very popular, and here we will tell you about their advantages:
5.1 Cost reduction
Having a virtual office considerably reduces the expenses. As a consequence, there is no need to worry about the maintenance and cleanliness of an office or even renting one.
5.2 Flexibility of hours and workplaces
By working remotely, the employee can work from anywhere at any time; as well as, meet their daily obligations. They have this freedom when working, we can find more comfortable and happy employees in their day-to-day. As a result, we obtain an increase in the productivity and performance of the company.
5.3 Productivity increase
Having the freedom to choose the time and place of work greatly increases productivity; In addition to this, working from home reduces breaks normally taken in an office. In general, having flexible hours allows you to work at any time of the day, where you can create a routine that improves production.
5.4 Reduce rest intervals and transfers
We can significantly reduce the time taken on established breaks in the offices; In addition to this, you will not waste time traveling to the office, allowing people to invest their time in a better way.
5.5 Hire quality staff
The essence of the virtual office is that everything works online, both the employee and the business owner. Therefore, you work remotely at all times, this being the most striking. As a consequence, you can search for personnel around the world and this allows you to find qualified professionals.
5.6 Expansion opportunities
Every business owner after having seen that his business idea is proving successful; has the desire to grow more. With a virtual office, you can expand that business to one of the best business destinations, Dubai. Because, since there is no physical space to maintain, a branch can be opened; thus, to be able to carry out commercial activities in this country.
5.7 Reduce rest intervals and transfers
We can significantly reduce the time taken for established breaks in offices; in addition to this, since they do not have to travel to the office, they use it to carry out their work activities. Consequently, there is an increase in productivity.
5.8 Security
Employees can feel more secure in their homes working at all hours; reducing the stress that working in a place late at night can cause. In addition, by not sharing personal information and being a remote job, it provides great privacy to all employees.
6. Things you should know about the virtual office license
There are certain important things you should know about the virtual office license. Next, we will introduce them.
The business owners who manage virtual companies; must pay the different taxes that exist in the UAE. Among them is social, individual, and corporate income.
If the company has a profit of more than 100,000 USD per year; it must pay a tax that is 5% of the amount in the UAE. This tax is known as Value Added Tax (VAT).
When VAT is due, the company must be registered with the Federal Tax Authority.
Only foreigners can apply for it.
101 countries can apply for it in the UAE, among the most prominent are: The United States, Saudi Arabia, Canada, Russia, China, Japan, and others.
Importantly, the fact that you have this license does not guarantee access to the UAE. Either for, a business visa, residence, or visitor.
It is not very expensive, ideal for new entrepreneurs.
We can take advantage of all the benefits offered by having a virtual office.
Individuals can run their business digitally.
If you want to open a bank account in the UAE, it will depend on the policies of each bank.
It is not necessary to have a visa to apply for the license.
ePay, is the platform they use to make VCC payments and is provided by Smart Dubai.
There are important countries at an economic level, that the people who reside in them cannot opt ​​for the license. Among them, are Afghanistan, Venezuela, Egypt, Iran, Serbia, and Thailand.
7. Connect Business Center offers you the best virtual offices in the market
As you could see, Dubai offers many opportunities when it comes to business. If you are a foreigner wanting to open a business and take advantage of everything that this nation offers. Undoubtedly, the virtual office is the solution for these entrepreneurs who are from other countries and do not want to leave.
On Connect Business Center, we offer you all the amenities you need to make use of virtual offices. These include an ideal address for your business and a local phone number. Additionally, we can include reception services and IT material, in case you need them. You can find the best one that suits your business and that includes everything you need to have a more comfortable development in the UAE.
Our virtual office options are the best low-cost solution in the market. That is why, using our services, can guarantee organizational success. Because one of the most important things a business needs is its office; in this field, it is a good option to start with virtual offices we have the greatest.

Would you like to know more about our services and advice? Contact us, you can call us at +971 43 316 688 or write to us through the following email info@connectbusinesscenter.com.
Have you been searching for employment chances with little success? Go and check out thetalentpoint.com. Here, you will find the job best suits your qualities and that is to your liking. Upload your resume and apply for one of the available vacancies, or send your CV to contact@thetalentpoint.com.