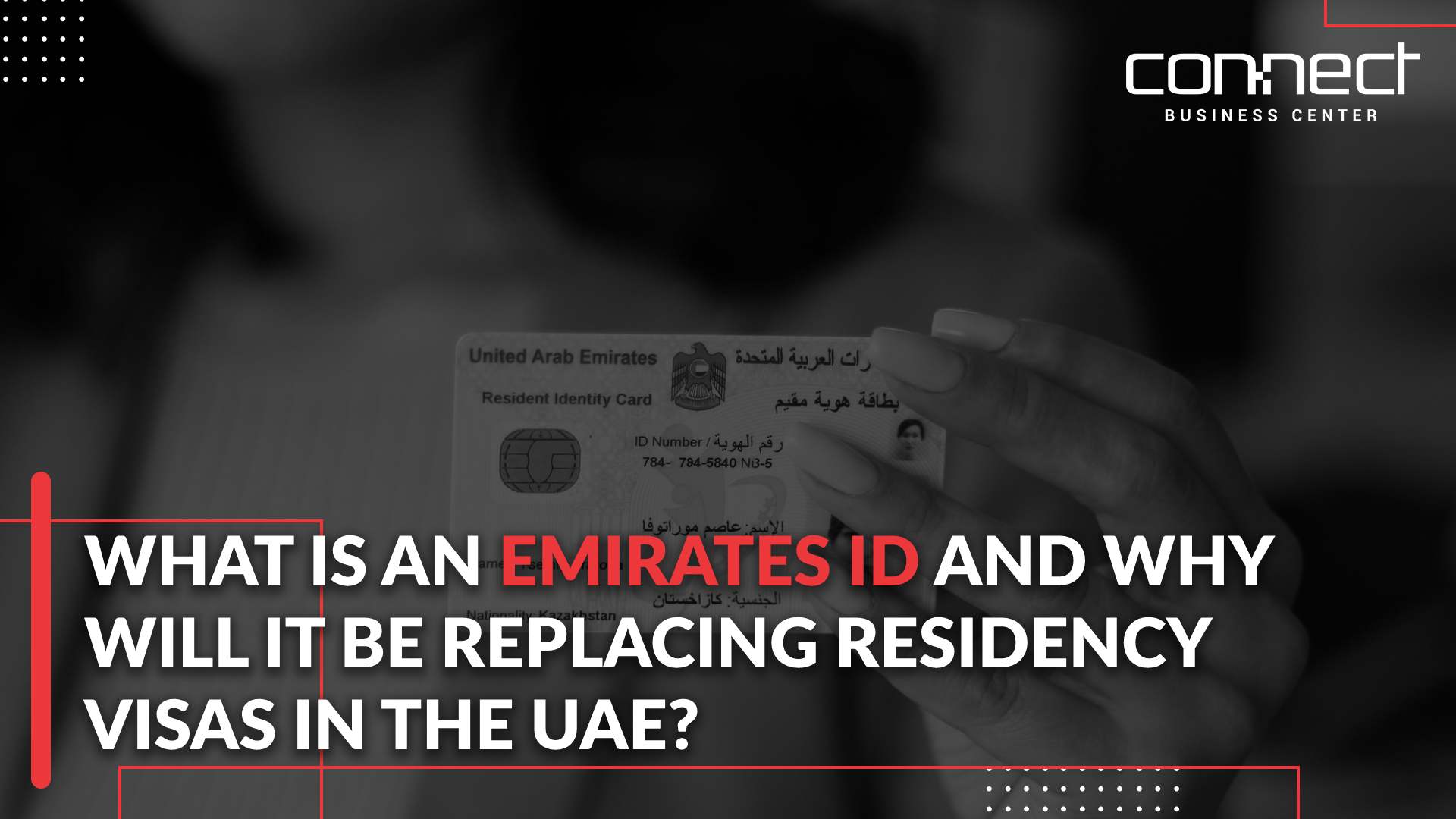 The United Arab Emirates is always innovating when it comes to its policies about immigration, always aiming for a way to make every process simpler. The Federal Authority for Identity, Citizenship, Customs and Ports Security (ICA) has published a circular declaring that expatriate passport residency visas will no longer be provided. Emirates ID cards issued to ex-pats will be used as proof of valid UAE residency, according to the circular.
In this article, we will dig deeper into what this announcement implies and what would be the potential benefits of it.
1. What exactly is an Emirates ID?
2. Emirates ID to replace residency visas: What is the situation?
3. What is the reason for the replacement of residency visas
4. The procedure to obtain an ID
5. What are the uses of the Emirates ID?
6. What are the potential benefits of this change?
7. When will this change take place?
8. Looking for more information? Contact us!
1. What exactly is an Emirates ID?
The Emirates ID is a "portable personal database" that all UAE citizens and residents, including newborn babies, must have at all times, people must carry the Emirates ID.
Emirates ID cards also receive the name of UAE cards. It is made of a 15-digit number, an electronic chip, your portrait, and personal information. The FAIC is the government organization in charge of issuing the ID. It stands for Federal Authority for Identity and Citizenship. While in the Emirates, you must carry this identification at all times. In general, the Emirates ID has the purpose of expediting government and private transactions and applications. It also serves the purpose of online processing and smart services.
The card has a myriad of functions, including paying phone and internet bills, paying fines, and registering automobiles. It will eventually replace your debit card and driver's license. Which is one of the reasons for it to replace residency visas.

A residence visa in the UAE permits foreigners to stay in the nation for an extended period of time. The visa can be valid for a period of 2 to 100 years, and it can be renewed as many times as necessary. Many multinational families have lived in the UAE for years, renewing their visas on a regular basis.
There is no such thing as permanent residency in the UAE. Being a permanent resident of the UAE merely entails possessing a visa stamp in your passport and staying in the nation on a regular basis.
2. Emirates ID to replace residency visas: What is the situation?
The ICA has stated that the decision to remove residency visas from residents' passports takes place in accordance with UAE wise leadership's directives. The purpose is to improve services in order to achieve customer satisfaction.
The cancellation decision also streamlines the process of obtaining and renewing UAE residency visas for ex-pats. It does this by providing a single application that comprises two things:
The issue and renewal of the residency visas
The Emirates ID
On request, the authority's smart application also allows users to receive an electronic copy of their Emirates ID cards.
All of the details provided before regarding the residency visas affixed to passports will appear on the new generation of Emirates ID cards issued to foreigners resident in the UAE. Previous versions of the residency visas would continue to be available electronically. This will be through the authority's smart application. Also, it will allow for greater transitional flexibility toward the use of the Emirates ID as a replacement. This represents a great opportunity for foreigners to start a business in the UAE
3. What is the reason for the replacement of residency visas
Many non-residents of the UAE do not understand why this new restriction is going to take place. It is common knowledge that in order to reside in the UAE, you must have valid residency visas. The Government dictates it that way.
People choose the visa system that best matches their existing situation in this regard. Business owners, for example, select the investor visa, and affluent investors select the golden visa.
On the other hand, job seekers select the employment visa, among other options. They must all go through the immigration process in order to acquire residency visas. To continue the process, they must first secure an entry permit and go to the UAE. They must complete a variety of activities once they get in the country. These include medical examinations and other requirements. Obtaining the residency visas stamp on the passport is one of the final phases of the procedure. They also apply for an Emirates ID.
Foreigners will no longer require a residency stamp on their passports under this new legislation. This is so since the Emirates ID would suffice to authenticate their immigration status.
The new law comes into existence in response to the August rollout of a new generation of Emirates ID cards. The UAE government intends to use this new document to make it easier for visitors to check their immigration status.
4. The procedure to obtain an ID
The program requires citizens and residents of the UAE to register. Children born in the UAE immediately receive a card at birth. However, biometrical features, such as fingerprints and retina scans, are not taken until the cardholder reaches the age of 15.
For UAE citizens, the card costs AED 100 for a 5-year validity and AED 200 for a 10-year validity. Expatriates pay AED 100 per year of validity, with the maximum number of years capped at the expiration of their present visa.
5. What are the uses of the Emirates ID?
The Emirates ID has a wide variety of functions. They can range from getting a new home internet plan to obtaining a new SIM card. The benefits of the Emirates ID also apply to other chores. They could be opening a bank account, paying your bills, or registering for a Dubai driver's license, among others. Of course, having an Emirates ID card has a number of advantages. The card's electrical chip can store up to 32,000 letters of data. Some data is encrypted, and only authorized individuals and organizations have access to it. In consequence, this identification acquires the characteristic of being a so to speak personal database.
All government agencies in the UAE accept the Emirates ID card as the only form of identification, other than passports. It acts as the holder's digital signature and is necessary when engaging in telecom, utility, and lease agreements. Beginning in February 2019, the Central Bank of the United Arab Emirates declared that all personal bank accounts in the country will require valid Emirates ID.
5.1 As an identity proof
When using government services, your Emirates ID can easily act as proof of identity. The card also safeguards your identification and aids in the prevention of fraud and identity theft.
For most services and processes, official institutions such as the Roads and Transport Authority (RTA), Dubai Municipality, and Real Estate Regulatory Authority (RERA) require you to provide the Emirates ID.
RTA, for example, offers kiosks located around the emirate where you may simply renew your driver's license and vehicle registration. These kiosks also offer additional services, such as paying traffic fines. All of them will require the use of your Emirates ID number.
5.2 For traveling
The advantages of having an Emirates ID do not simply limit to online services. For UAE nationals and residents, the Emirates ID also simplify airport immigration. When traveling, Emirates ID holders can add convenient e-gate services to their cards.
The Emirates ID can be used at the smart gates at Dubai International Airport to expedite passport control. To pass through the e-gates without having to wait in long lines, simply scan your card and give fingerprint authentication. The manned immigration area also helps you save a lot of room on your passport.
When you arrive at Dubai International Airport, you can use your Emirates ID at the e-gate. You do not even need to activate the service ahead of time at the Emirates Identity Authority. This service is also available to ex-pats having Emirates ID cards. Children under the age of 15 traveling with Emirates ID holders will have their travel procedures completed by special workers at the smart gates.
5.3 Credit history and banking
You can also receive a quick credit report with your ID card at any Al Etihad Credit Bureau customer care center. Similarly, using the Emirates ID card, banks may quickly access a customer's credit history.
5.4 For medical background
The Emirates ID can be used in place of health insurance cards throughout the Emirates as of 2016. Medical insurance can be processed using the cardholder's ID. They can now incorporate their ID with the medical insurance system instead of carrying a medical card.
Insurance firms have transferred their client information to the database so that hospitals and clinics can use the Emirates ID to process them. Only a few hospitals have systems in place to link medical records to patients' ID cards not long ago. This has recently changed, allowing hospitals, insurance companies, and patients to save time and improve the accuracy of treatments.
5.5 For gas refuel
Finally, the oil corporation ADNOC has increased the number of payment options available to clients at its smart service stations. As a result, you can now refuel in Abu Dhabi using cash, credit cards, ADNOC Plus Cards, and your Emirates ID, which will be linked to an activated ADNOC Wallet.
To summarize, these are the main advantages and applications of the Emirates ID. The numerous benefits of having a UAE ID card illustrate the government's 'citizen-first' philosophy. Not to add, integrating the Emirates ID across numerous institutions and service providers saves a lot of time and paper, which helps the country's green goals.
6. What are the potential benefits of this change?
Both expatriates and UAE nationals will benefit from the new regulations. Expatriates will have an easier time renewing their documents because they will not have to go through an extra stage. Another good news is that citizens can travel outside the nation whenever they want and use their passport number and Emirates ID cards to verify their residency status at the airport; airlines have passport readers, making the process quicker.
Because you only need to renew the Emirates ID to renew your immigration paperwork, and because this new card has more advanced technology, you only need to renew the ID every 10 years.
7. When will this change take place?
This replacement, according to the UAE Authority, will take effect on April 11, 2022. However, because this is breaking news, it is vital to wait until further information about how this replacement will work is available.
8. Looking for more information? Contact us!
We understand the hardships entrepreneurs go through when they set for themselves the goal of building their own business center. Their own company that will leave a legacy, hopefully for generations to keep it alive and turn it into a worldwide known organization. But you must never head out to this enterprise on your own. It is important that you understand the processes and norms that need to be followed, and this will allow you to improve your options to achieve the goal you have in mind.
Setting up a place to start your business is one of the first steps to take, and we can help you with that and much, much more.


Would you like to know more about the services we can put at your disposal? Feel free to give us a call at the following phone number +971 43 316 688. You can also reach us via email at info@connectbusinesscenter.com. Everything you need to set up your business, you can get it with us. Our team is ready to assist you with any questions you might have.
Also, if you would like to explore many different employment opportunities, go ahead and visit thetalentpoint.com. Here, you can find your next big job. You may also want to send your CV to contact@thetalentpoint.com to apply for any position you like.